Listing Products - All Tuffa Tanks Fuel Stations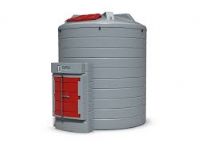 Tuffa Tanks Fuel Stations
We supply Tuffa Tanks Bunded Fuel Stations they come in sizes from 1350ltr to 15000ltr . The Tuffa Tanks range are complete and ready to use all that is required is a hard standing flat concrete base and your final electrical connection , All standard diseal tanks are fitted with a submersible pump 60lpm, flowmeter , delivery hose and automatic shut of nozzle.please call for more details.
| | |
| --- | --- |
| Our Price | £ 4476.00 |
| (Excl. VAT | £ 3730.00) |

Tuffa 3500ltr Fuel Station
Tuffa Tanks 3500ltr Bunded Fuel Station comes with lockable cabinet, 4mtr hose, Automatic shut of nozzle, 10 micron filter, electronic level gauge, overfill prevention valve, key switch to operate pump, bund and overfill alarm with warning light, submersible pump 60 litres minute,vent & nozzle holder available in black and green. Dimensions 2034mm diameter x 2520mm height , 3500ltr capacity when brim full.