Listing Products - All Elsan Tanks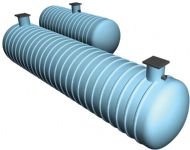 Elsan Tanks
Are range of Elsan Tanks are made from GRP and come chemically lined they are suitable for storing caravan toilet waste on Camping sites and Caravan parks .The tanks are suitable for underground installation and are available in various sizes. Please give us a call to discuss your requirements.
| | |
| --- | --- |
| Our Price | £ Call |
| (Excl. VAT | ) |

3800 Litre Elsan Tank
3800 Litre Elsan Tank suitable for storing toilet waste from Caravans on campsites and caravan parks . the tank is chemically lined and made from GRP .Please call for further details and prices. 4000mm length x 1250mm width x 1750mm height , 110mm inlet , 1 turret 450mm diameter.
| | |
| --- | --- |
| Our Price | £ Call |
| (Excl. VAT | ) |

10000 Litre Elsan Tank
10000 Litre Elsan Tank suitable for storing Elsan waste underground from caravans on campsites and caravan parks.The tanks are chemically lined and are made from Grp . Please call for further information. 4200mm length x 1900mm width x 2400mm height , 160mm inlet
| | |
| --- | --- |
| Our Price | £ Call |
| (Excl. VAT | ) |

2800LTR Elsan Tank
2800 Litre Elsan Tank Suitable for Caravan and Camping sites for the disposal of toilet waste from caravans made from Grp the tanks are chemically lined and suitable for underground storage . Please call for further details 3000mm length x 1250mm width x 1750mm height , 110mm inlet , 450mm inspection lid
| | |
| --- | --- |
| Our Price | £ Call |
| (Excl. VAT | ) |

8000 Litre Elsan Tank
8000 Litre Elsan Tank suitable for storing Elsan waste from caravans on campsites and caravan parks. The tanks are chemically lined and made from GRP. Please call for further details . 3640mm length x 1900mm width x 2400mm height , 160mm inlet ,
| | |
| --- | --- |
| Our Price | £ Call |
| (Excl. VAT | ) |

6000 Litre Elsan Tank
6000 Litre Elsan Tank suitable for storing Elsan waste from caravans on campaites and caravan parks .The tank is made from GRP and is chemically lined. Please call for further details. 2950mm length x 1900mm width x 2400mm height , 110mm inlet , 1 turret 450mm diameter